Welcome to StarT-programme!
The StarT programme support the implementation of interdisciplinary project-based learning in accordance to the newest national core curriculum of Finland. StarT is aimed for learning communities ranging from early childhood education to upper secondary schools.
The main goal is to strengthen the interest of children and youngsters towards mathematics, science and technology.
StarT brings people together from all around the world and allows them to experience the joy of collaborative learning and joint success. StarT is exceptional as everyone learns together as a learning community by carrying out phenomenon-based and cross-curricular projects. Furthermore, in StarT different learning communities share their best educational practices.
Everyone can be a part of StarT: learning communities, teachers, specialists, students, families and companies – just find your own role – either working on the projects, participating in our activities or supporting the projects as a specialist or sponsor. 
The StarT programme in a nutshell
The flagship of StarT programme are the annually handed out International LUMA StarT Awards for best educational practices to teachers and educators; and for best projects to teams of kids and youth.  Read more about the StarT competition, such as the assessment criteria, themes and awards.
However, the international StarT includes much more.  We offer teacher free online courses as well as material, such as virtual science club for children.
Do you want to start organizing StarT nationally in your country? Read more here about becoming an official StarT partner country.
You can also support children's and youngster's work and studies on Science, Mathematics and Technology as a StarT sponsor.
Please, subscribe to our newsletter and you will get latest information about StarT programme and the opportunities we offer.
How to carry out a StarT project?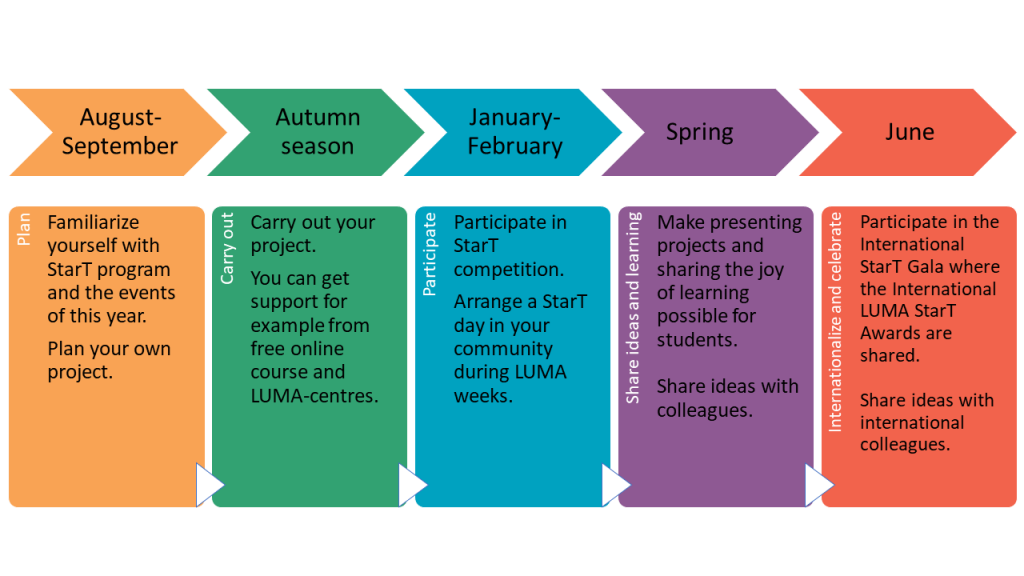 StarT is organized around the academic year. You are free to carry out your StarT-project in the schedule that best suits your needs. To help those wishing to carry out a StarT-project, we have put together this schedule that enlists the annual activities of StarT. Many of these activities take place at a specific time, so it is good to keep the schedule in mind if you wish to participate them.
If you are participating from one of our partner countries, please contact them for national schedules.
Autumn season
Start your learning community's learning journey by familiarizing yourself with the StarT program and the events of this year. You are advised to start planning on your own project as soon as the school year begins.
StaT projects and best educational practices are carried out in learning communities during the autumn season.
Spring season
The registration to StarT competition takes place in the beginning of the spring season. Participate in the StarT competition by reporting your work with links to your videos and learning diaries!
We hope that every StarT learning community shares the joy of learning in their own community by organizing a StarT Day: this way children and youngsters get to present their work for example to their parents and others.
During spring time the joy of learning is shared through various events both nationally and internationally. Please also report your projects via social media and let us know about it by using #startluma of @startluma.
As the registration comes to an end, the juries begin evaluating submitted projects and practices. Those projects and practices who pass through the preselection will be taken into account when the StarT Jury deliberates on the ten nominees for International LUMA StarT Awards.
The names of the nominees will be published by the end of April. The public voting on Nominees will begin on late Spring.
The StarT season culminates at the International StarT Gala, where the best projects and best educational practices of the year are awarded!