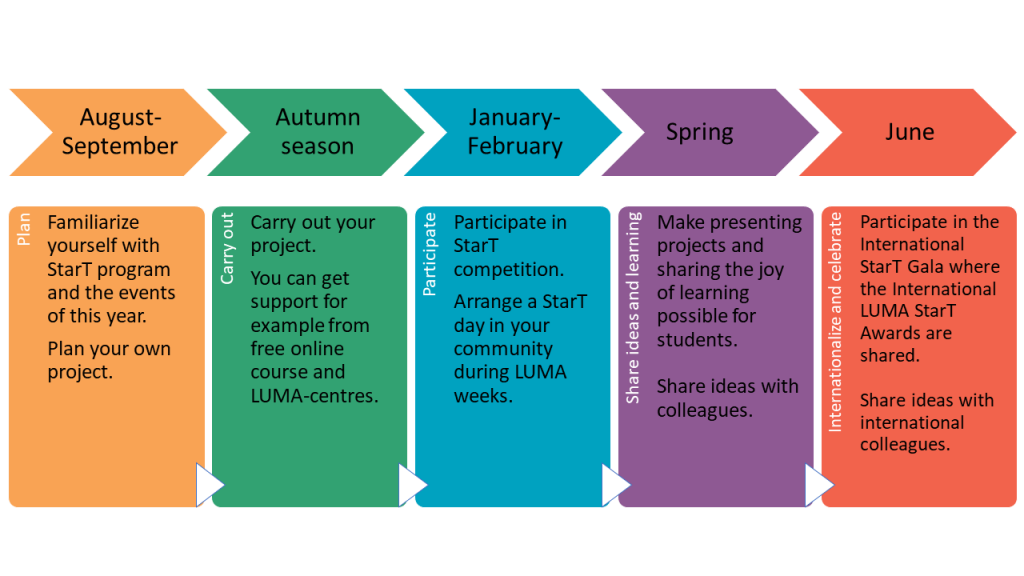 Schedule for StarT
StarT is organized annually every academic year. The schedule below describes the annual events of StarT. You can of course carry out projects according to your own schedule but many features of StarT take place at a specific time, so it is good to keep the schedule in mind if you want to participate in StarT. 
If you are participating from one of our partner countries, please contact them for national schedule.
Autumn season
StarT your learning community's learning journey by familiarizing yourself with the StarT program and the events of this year. You can start planning your own projects. 
StarT projects (and of course best educational practices) are carried out in learning communities. Remember that you can get support from our free online course or from LUMA-centres.
January-February
Participate in the StarT competition by reporting your work with links to your videos and learning diaries!
We hope that every StarT learning community shares the joy of learning in their own community by organizing a StarT Day: this way children and youngsters get to present their work for example to their parents and others. 
Schedule for participating in StarT competition 2022:
Reporting period: 3.1. -7.3.2022 
Spring
During spring time the joy of learning is shared through various events both nationally (StarT Festivals) and internationally (the international public voting). Please share the joy of learning via social media by using #startluma of @startluma.
This is also the time for jury work.  Those projects and practices who pass through the preselection will continue on and will be taken into account when the StarT Jury deliberates on the ten nominees for International LUMA StarT 2022 Awards.
The names of the nominees will be published by the end of April. The public voting on Nominees will begin on 2nd of May and end on 31th of May 2022.
June
The StarT season culminates at the International StarT Gala, where the best projects and best educational practices of the year are awarded!  
13th – 14th of June 2022: Winners of the International LUMA StarT 2022 Awards will be published at the StarT Gala on 13th of June. The gala is a part of the International LUMAT Symposium and national LUMA Days that will be held in Finland on the 13th and 14th of June 2022.